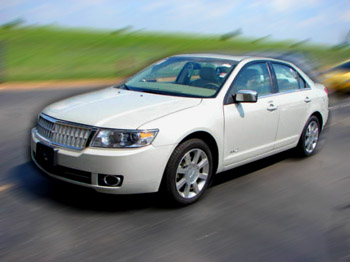 The Lincoln MKZ is a mid-size luxury car from the Lincoln automobile division of the Ford Motor Company. The MKZ is the replacement for the 2006 Lincoln Zephyr. Lincoln revived the Zephyr name in the fall of 2005 as a platform mate to the Ford Fusion and Mercury Milan, to replace the cancelled 3.0L V6 version of the Lincoln LS as the mid-size entry-level Lincoln. Lincoln increased the Zephyr's engine size and power output, and changed the car's name to MKZ in 2006 for the 2007 model year. Sales of the MKZ began in September, 2006. The MKZ is also the first Lincoln to use "MK" on its car name.
The car is built at Ford's Hermosillo, Sonora, Mexico plant, and pricing ranges from US$29,950 to $37,790.
The MKZ uses the Mazda6-derived CD3 platform. While the car shares 35% of its body panels with the Ford Fusion and Mercury Milan, the interior is completely unique to bring the car up to Lincoln standards. Features like a 600 W THX sound system with 14 speakers also set it apart from the mainstream Ford, Mercury, and Mazda versions.
The suspension is independent all around with a short/long arm (SLA) design in front and multilink setup with coilover shock absorbers in the rear.
Ford and Lincoln corporate and marketing management originally announced the MKZ with a "Mark-Zee" pronunciation during the 2006 cars show circuit, but changed it to the phonetic "em-kay-zee" in July of 2006.