The Lincoln Navigator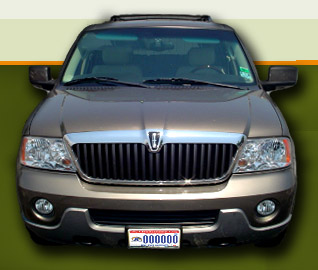 The 1998 Navigator was one of the first luxury SUVs. It introduced the concept of the American luxury SUV, competing at first with only the Cadillac Escalade. Essentially a luxurious Ford Expedition with a more powerful engine, more luxury features and better trimmed interior including higher quality leather, fine wood, and extensive carpeting, its humble truck roots could be easily spotted, however. The Navigator had the same user-friendly dashboard layout as the Expedition and F-150. Competitors from Cadillac and GMC with the Denali Series quickly followed. Much like the Cadillac Escalade, the Navigator found a spot with celebrities and the customized SUV scene.
Upgrades came just one year later with a more powerful DOHC InTech engine and electrically-adjustable pedals, an "industry first." This new engine produces 300 horsepower and 355 ft·lbf torque. More luxury features appeared in 2000, including a satellite navigation system, cooled/heated front seats and reverse sensing system as well as side impact airbags. No more major changes were made in 2001, and the Navigator was redesigned after 2002.